Ex-convict with fabricated master keys has been arrested by operatives of the Nigeria Police Command in Ogun State, while allegedly using fabricated master keys to unlock and snatch some cars.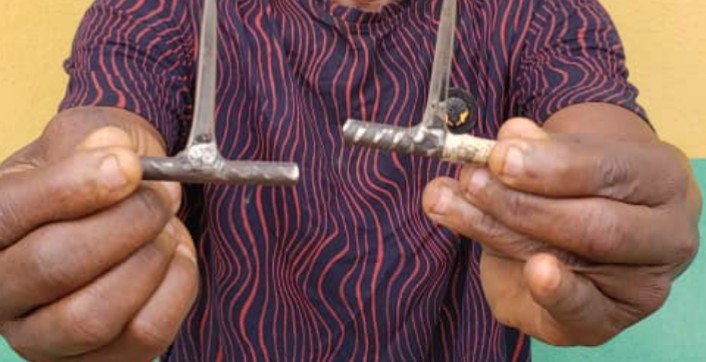 Police said Sunday Dosunmu, was previously jailed while trying to steal a car from a vehicles parking lot in connivance with his syndicate on the 17th September 2022 at Olorunsogo in the State.
The Command's spokesperson, SP Omolola Odutola in a statement, said the 53-year-old suspect, was arrested by youths and handed over to Divisional Police Officer Kemta, CSP Adeniyi Adekunle on 12th August 2023 at about 1930hrs on Eleme Road in the State.
She explained that Dosunmu, in his habitual act was caught again by youths of that area, while using fabricated master keys to unlock some cars within Eleme area.
The police spokesperson said, "People who saw him raised the alarm, which made him take to flight. But, the young guys gave him a hot chase and caught up with him, they later alerted the police team that visited to the scene and arrested the suspect".
Two fabricated iron master key was found in his possession and obviously it is part of the instrument used to unlock unsuspecting car owners vehicles, he gets into the vehicle and drives the car away", police said.
SP. Odutola stated that "a plea of double jeopardy will not suffice if there was no acquittal on a thorough investigation, he may have been released on want of evidence. However this time, the Police will prosecute him to ensure that justice is served since he has not repented irrespective of his age".
The State Commissioner of Police, CP Alamutu Abiodun Mustapha, having been briefed in the crime and investigation, accordingly, "directed that thorough evidences are brought forward to the Court so as to ensure Sunday Dosunmu learns his lessons".