.
A notorious drug dealer, Sunday Ishaku Emzor has been arrested by operatives of the National Drug Law Enforcement Agency (NDLEA) for drug dealing in Adamawa State.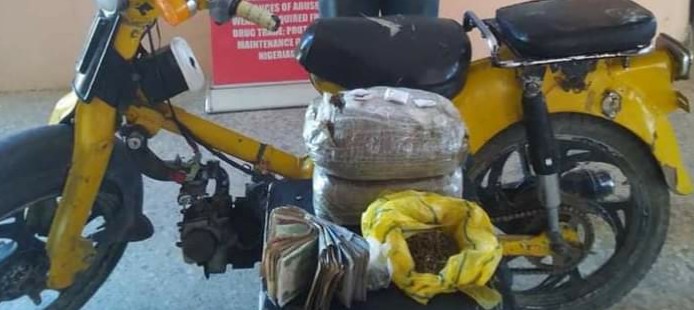 Sunday also known as Lalas was convicted and sentenced to 15 years imprisonment in 2010 for drug offences, Femi Babafemi, NDLEA spokesman said on Sunday in a statement.
The suspect was arrested at Hayin Gada, Imburu Numan Local government Area of the State where he went to supply 1.650kg cannabis to an undercover operatives who on Thursday 20th April 2023.
The suspect yellow colour Press Cub motorcycle, according to the anti narcotic agency, was allegedly used for supplying illicit drugs and a cash of N78,120 suspected to be proceed of the illegal business were recovered from him at the point of arrest.
The agency revealed that on the same day in Kaduna, operatives acting on credible intelligence intercepted a truck conveying 110 bags and 200 compressed blocks of cannabis sativa weighing 1.223 tons (1,223kg) in Zaria while the truck driver, Adekunle Olanrewaju, 32, and his assistant, Tunde Jamiu, 20, were arrested.
Similarly, a 400-level Marine Engineering student at the Niger Delta University, Amassoma, Bayelsa state, Kelvin Ogenedoro has been arrested for dealing in 600grams of skunk.
Ogenedoro, according to the NDLEA, was nabbed at the University's gate in a follow up operation following the interception of the consignment in a commercial bus on Tombia-Amassoma road.
In Edo State, a 42-year-old cripple, Lucky Aigberenmolen trading in illicit drugs on his wheelchair was arrested in a raid of drug joints in parts of the state. While Lucky was nabbed at Ekpoma, Esan West Local government Area of the State.
He was caught with 1.3kg of Cannabis Sativa and 10 litres of Monkey Tail, another suspect, Mary David,46, was arrested at Ugbegun, Esan Central Local government Area of the State with four litres of Monkey Tail while Osagiede Stephanie, 19, at Ekpoma, with various quantities of Colorado, Methamphetamine, and Molly.
A 50kg cannabis allegedly stored in a bush for distribution was also recovered in Irrua area of the State.
Two suspects: Adeshina Olalekan and Christopher Joel, were arrested at Lektop hotel, Igbeba, Ijebu Ode, Ogun State, with 39 litres of Skuchies, as well as various quantities of tramadol, and rophynol.
Besides, operatives in Imo State intercepted a female suspect, Ijeoma Anyiam Loreza, 40, at Orogwe, Owerri North with 70 blocks of Cannabis Sativa weighing 30kg.
A notorious drug dealer in Okitipupa area of Ondo state, Mathew Obateru, 42, has also been taken into custody after different quantities of Cocaine, Heroin, Methamphetamine, Colorado and Loud were recovered from him.
Elsewhere in Taraba, a suspect, Mohammed Usman was arrested on Monday 17th April in connection with the seizure of 10,009 pills of tramadol.