.
Five soldiers and two operatives of the Nigeria Police sustained varying degrees of injuries from the Improvised Explosive Device (IED) detonated by militants in Orsomoghu forest, spanning Anambra and Imo States, South Eastern Nigeria.
The Director Army Public Relations, Brigadier-General Onyema Nwachukwu said the incident happened on Monday July 31, 2023
outlawed militant enclave of Indigenous People of Biafra (IPOB) and Eastern Security Network.
Brigadier-General Nwachukwu revealed in a statement that the attack did not deter security agents from successfully raiding hideouts and training camps belonging to criminal groups.
He said the camps' raid was conducted by a combined troops of 82 Division Nigerian Army, sister Services, Nigeria Police and other security agencies on Monday 31 July 2023.
"Sadly, five soldiers and two Nigeria Police operatives sustained varying degrees of injuries from the IED detonated by the criminals", Brigadier-General Nwachukwu, said.
He explained that the initiative was part of "ongoing operations to deter enforcement of the illegal sit at home declared by Indigenous People of Biafra (IPOB) and and its armed wing, Eastern Security Network (ESN)".
The army spokesman said security agencies responded when troops were alerted to the violent activities of the irredentist group enforcing the illegal 2 weeks sit-at-home order in Onitsha, Nnewi and Iheme Obosi in Anambra State, as well as New Market in Enugu State.
"During the raid operations, the troops cleared IPOB camps in Ekeututu, Orsomoghu, Lilu and Mother Valley camps of the dissidents. Troops came in contact with the group's armed fighters, who detonated Improvised Explosive Devices (IED) also known as Ogbunigwe and fired using locally fabricated mortar tube.
"The valiant troops however overpowered the irredentist group in the firefight, compelling them to abandon their position as they fled with gunshot wounds into nearby bushes", the statement said.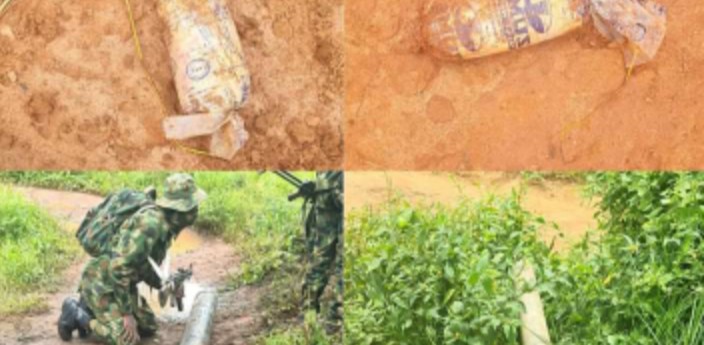 Brigadier-General Nwachukwu assured that further cordon and search of the hideouts by the troops, led to the arrest of five fleeing members of the group and recovery of one IPOB flag, one CCTV camera and 2 detonated IED bombs and a fabricated mortar tube.