Omo N' Oba N'Edo, Uku Akpolokpolo, Ewuare II, Oba of Benin has pledged a parcel of land for a skill acquisition Centre where youths will live their dreams and reduce unemployment in Nigeria.
Oba Ewuare's made the pledge in response to a request by the Prelate of the Presbyterian church, His Eminence, Dr. Ekpeyong Akpanika's courtesy visit to Oba Palace in Benin City.
The traditional ruler said the Benin throne will assist the 177-year-old Mission in realizing the noble objectives and look forward to worship in the church in future.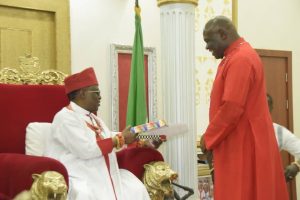 "Your request is noted and approved. We will work on it. We will do our best to assist you. No doubt that opportunity will present itself for us to come and worship in your church.
Addressing the Benin throne, the Presbyterian church, His Eminence, Dr. Ekpeyong Akpanika who was represented by Most Reverend Dr. Umahi, JP, expressed his gratitude and admiration for the extraordinary contributions of the Oba Ewuare II and his forebears in the preservation of Edo heritage.
He also noted the enduring legacy of Benin monarchy particularly Oba Erediauwa whose act of philanthropy benefitted the Presbyterian church immensely.
The Cleric listed advancement of education, healthcare and agricultural development as the primary focus of the Mission in Nigeria.
"We remain committed to these fundamental principles, dedicating ourselves to empowering individuals and Communities through education and skills", Akpanika said.
Highpoint of the visit was a presentation of a copy of the Bible to Oba Ewuare II and special prayers for the the Royal family and Nigeria by the delegation.