But for the prompt deployment of armed security operatives, two Nigerian Correctional Centres in Oko and Sapele road both in Oredo Local Government Area of Edo State would have been breached by hoodlums who hijacked Wednesday's protest over redesigned naira scarcity by angry residents in the State.
Four persons including a nursing mother and several persons were reportedly injured in connection with the violent protests by angry residents over new Naira notes scarcity.
The attacks at the Correctional Centres were averted, as security agents fired gunshots repeatedly. This followed failed attempts by hoodlums to invade Guarantee Trust Bank on Sapele Road and United Bank of Africa (UBA) on Airport road, leading to Oko Community in the Local Government Area.
Recall that the remodelled Correctional Centres were attacked by gunmen who set over 3000 inmates free during the End SARS riot that in October 2020, while some of the inmates were later killed and others captured by security personnel after the incident.
SARS is the acronym for disbanded Special Anti-Robbery Squad, a unit of the Nigeria Police disbanded by the government.
Security personnel, comprising operatives from Department of State Security Service (DSS), local Vigilante were also deployed to other flash points and State government Buildings, offices including Oredo Local Government Council Secretariat and Banks to forestall attacks.
It was learnt that the one side of the busy Sapele road, as temporary blocked by armed security personnel, amid rising tension.
Motorists plying King square and Sapele road, leading to Delta State, were either forced to use one side of the road or parked their vehicles as gunshots rent the air, to avoid been caught in the ricochets.
Checks by TheNewspad revealed that the Nigerian Custodial Centre and Edo State Specialist Hospital was besieged by security operatives, while the popular Shopping Mall near the Custofial Centre, was shut down.
Most Commercial Banks and Points of Sale (PoS) agents in mist parts of Benin Metropolis shut down their operations after violence broke out, while the State Secretariat Building was taken over by members of Edo State Vigilante Network.
Parents and Guidance also rushed to schools in Benin Metropolis in a bid to prevent their children from been caught in the melee.
There was a near combat between Imaguero College authorities and some patents after their request to take their Children home ahead of the closing four, was turned down.
Some parents at Our Lady of Mercy (OLM) Catholic school on Dawson Road by Mission road junction, were assaulted by hoodlums who attempted to break into the school during school hours.
A parent who spoke to our Correspondent revealed that the parents were attacked at the school's gate while appealing to the Management of the school to grant them access to take their children home, amid weeping and wailing.
The female parent who does not want her name on print, alleged a senior Management staff of the school, had ruled out any possible attack after protests began in Banks around the area.
Narrating her ordeal, she stated that the top female Management staff initially delayed parents access to take their children from the school until protesters stormed the school and attempted to bring down its main gate moment later, while the school was still in session.
According to her, "Patents who came to wait for their children at home were assaulted by the thugs. It was an unpleasant scene. Why wait for disaster to happen before you take steps?.
Speaking further, the parent said, "My son told me that some children came out of their classrooms and began to watch helplessly. The Headmistress had to call for security personnel to help prevent attackers from invading the school"
"When I eventually picked my children from the school, we trekked over 4 kilometres home because there was no vehicle on the road.
"For now, the school Management has ordered indefinite closure of the school", the patent said.
Similarly, two vehicles, Toyota Carina car and Prado SUV stolen from access Bank premises on Textile Mill road by hoodlums during the riot.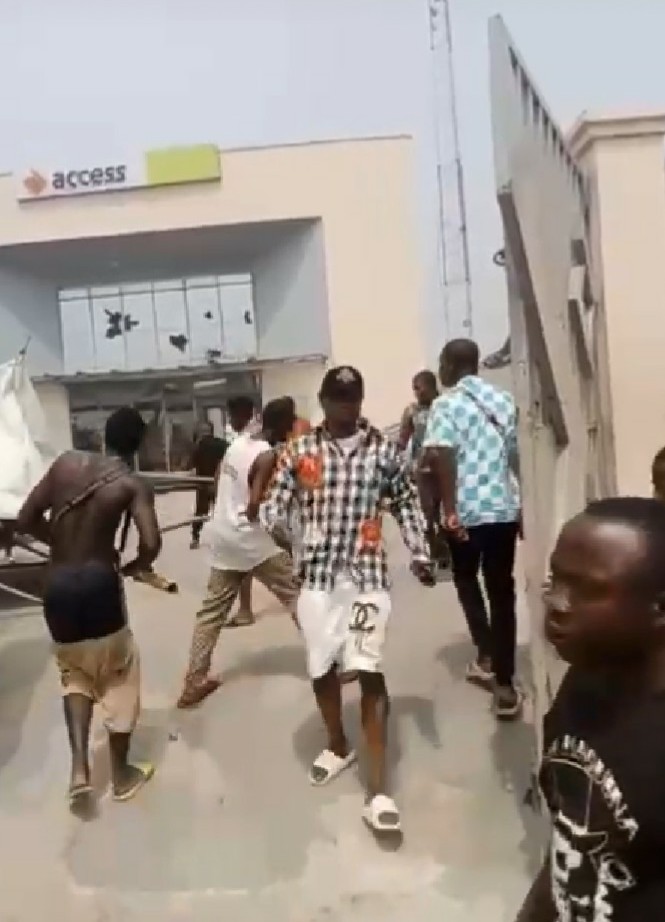 PoS stands on Textile Mill road, Iyaro and environs were also destroyed by hoodlums.
Reacting to the governor of Edo State, Mr Godwin Obaseki, called for calm, assuring that he has ordered deployment of security to protect banking assets, PoS operators in the State.
The police public Relations officer, Edo State Command, SP. Chidi Nwabuzor confirmed the violent protest that engulfed parts of the State on Wednesday.
He however declined comments on the casualties figure.
Consequently, Governor Godwin Obasek of Edo State, conveyed a security meeting with heads of security agencies in the State to review the security situation on Wednesday afternoon.
Commenting on the developments, Governor Obaseki sued for calm among residents of Edo State, assuring that security operatives have been deployed to protect banking assets in the State to ensure the disbursement of cash to citizens.
He expressed displeasure over the protests in Benin City, the state capital, adding that the state government will do its best to ensure that residents in the state are able to withdraw their cash from the banks in the State.
"As a government, we tried to do as much as we could have, to make sure that citizens are able to draw cash deposited in their accounts, and unfortunately, that has not happened the way we expected and it has led to some agitations and concerns by people in the city.
"From what happened today (Wednesday) we can tell clearly that the people who undertook the damages of banks and banking assets were not depositors as many of them were area boys.
"We met and resolved to restore security to the state and the banking institutions. Security men have been deployed and will remain in banking premises to keep calm."
The governor said, "We are putting pressure on the Central Bank of Nigeria (CBN) authorities to do what they should do to release cash to citizens and have requested for security to do so.
"The plan is that from tomorrow morning, security men would give support for disbursement of cash through POS operators in our markets and as soon as they can restore safety and sanity to the banks, then the bank will open to disburse cash to citizens.
"We want all citizens to be vigilant to make sure the situation is not hijacked so that things will not go out of control. We feel the pain of our people and as a government, we would continue to do everything we can to reduce the pain our people are going through", he said
TheNewspad reports that normalcy has returned to the Correctional Centres.
But, checks on Thursday morning revealed that most public and private primary and Secondary schools across Benin Metropolis have been deserted.
No reason has been adduced to by children remained at home.
But, sources close to the Ministry of Education the action may not be unconnected with the violent protests that paralyzed businesses.
Download Newspad app on playstore for more updates…