.
Some Benin automobile spare parts dealers at Uwelu in Egor Local government Area of Edo State on Tuesday, heckled the governor of the State, Mr Godwin Obaseki when he led Peoples Democratic Party (PDP) campaign Candidates for the State house of Assembly in Saturday March 11, 2023 polls to the locality.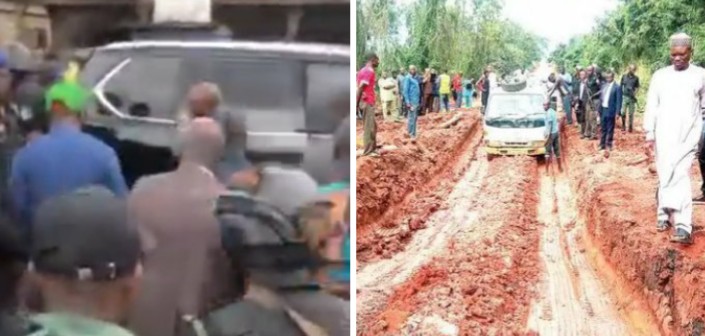 The upset comes few months after aggrieved traders and residents of the area, protested against the deplorable state-of-the access roads that lead to the market that was also gutted by fire in August 2019, leaving stock worth millions of Naira destroyed.
Trouble started when Governor Obaseki alighted from his official black colour Sport Utility Vehicle (SUV) and surrounded by a retinue of his political aides and armed security personnel when angry traders, heckled him in anguish
and began to chant 'Peter Obi', amid confusion.
The visibly shocked Governor, had embarked on aggressive campaign for his preferred Candidates in the elections in his desperate bid to reverse the poor outing of the State ruling party during February 23rd 2023 Presidential and National Assembly polls.
TheNewspad reports that way back in 2019, Obaseki had promised to assist the affected traders to ascertain the level of damage and assist them to get back to their businesses in the crowded area.
Recall that after his on-the-sport visit to the spare parts market, the State government also raised 8-man panel of inquiry chaired by Mr Osaigbovo Iyoha, the current Chief of State to the Governor Godwin Obaseki.
The Government has yet to either fulfill her pledge to traders nor rebuild the market since the hostility began over the past three years.
Download Newspad app on playstore and follow us for more breaking news updates and videos…
75 total views